Asanko Gold (AKG) is falling again, the price went down to .87 August 3 without any company-specific news. In this article I will try to reconstruct why the company's share price is cratering, building on my previous article: Why Asanko Gold Is Crashing, while adding fresh data as the stock dove another 50% since that article was written.
This article will be composed of three parts: in the first we will shortly describe what Asanko is and what are they doing. In the second half we will assess what the short side is saying about the company's business and what happened in the last 3 months. In the final part I will synthesize it all make an educated guess about how this story will unfold.
Asanko Gold
Asanko Gold is in the business of mining gold in Western Ghana and is a development-stage gold miner that began commercial operations at its namesake Asanko Gold Mine in April 2016. In 2017, it was expected to produce an estimated 230,000 to 240,000 oz Au, recently revised down to 205-225'000 oz in the most recent guidance.
The business plan stated that there would be a sequence of pits that would be mined, starting with the Nkran Pit before moving to satellite deposits like Akwasiso in 2017 and Dynamite Hill in 2018 and to the two big Esaase pits in 2019.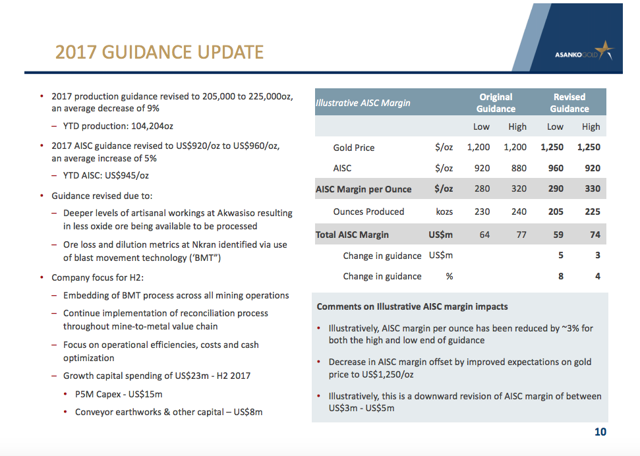 However, technical and economical issues arose through being ahead in the mining of the ore rich part of the Nkran pit, while being behind with the waste rock disposal.
The company is using new models and technologies in order to improve the model-mining reconciliations and is using blast movement technology to identify ore losses and dilution. Blast movement resulting in higher than planned dilution are being blamed for the lower grades and ore losses. I salute management for trying to find solutions and wish them the best. In the meantime let's review what the short side has to say about this company.
Shorts position and most recent developments
The two short theses for Asanko are the ones expounded by Muddy Waters and by K2 and Associates.
K2 and associates is a Toronto-based hedge fund that has been shorting Asanko since June 2016, when it was still around $4.40. It seems that the main reason for K2 to start shorting Asanko was the fact that its gold resources were overinflated. This applies specifically to its Nkran deposit, which Asanko acquired from Resolute Mining Ltd in 2014.
K2 published a compelling 33 page report and the arguments brought forward were reiterated by K2 in this article from last February here on Seeking Alpha. The report provided some interesting satellite images showing how the company was mining ahead of the feasibility study and the collapse of a part of the western flank of the Nkran Pit. K2 goes at length, using review of historical drilling and technical work, Asanko's disclosure and guidance, to demonstrate how the company's mine performance at Nkran has produced less gold from reserves compared to its Definitive Project Plan feasibility study. It also incorporates data from Resolute Mining's previous experience with mining the orebody.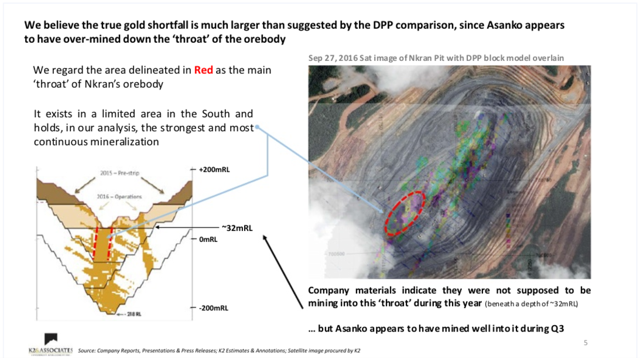 K2 also shows how the company was supposed to strip the pit with two CAT shovels: the large CAT6030 with 10.1Mtpa of mining capacity and a smaller CAT6015 with 4.8Mtpa of mining capacity for the mining of the gold bearing ore, while it was at the time already using two CAT6030, implying a 40% bigger monthly moving capacity due to the necessity of disposing of more waste material and faster mining of the orebody than expected in the feasibility studies.
Muddy Waters is a famous short seller specialized in account or other frauds in publicly traded companies. Muddy Waters' trading outlook is that the company's shares will drop to zero. The fund notes that Asanko's liquidity was limited to $48m of cash on hand, with no availability on its $150m revolver credit (long term debt that has to be repaid later on). Using 'company-favorable assumptions', they estimated that Asanko will have a cash shortfall ranging from $43m to $129m in 2018. Muddy Waters' report can be freely accessed here.
As previously synthesized, Muddy Waters' thesis is composed by 5 main arguments and a corollary:
Basing themselves on flawed geology, AKG made investments in Nkran, Esaase and other deposits, that the fund believes will never be recovered.
Muddy Waters claims that the western Nkran wall suffered a significant collapse, something that seems to be confirmed by photographic evidence. Muddy Waters estimates that Asanko needs to spend $75 – $115m soon to push back and move the collapsed material as to avoid a mine "pinch out". My comment at the time was that this was a two-edged sword: spending this kind of money would likely mean that AKG will run out of liquidity in 2018, whereas not spending the money leaves the company without the cash flow to develop its largest deposit later, Esaase.
Asanko's satellite deposits are unlikely to yield significant cash flow due to assumed flawed geology. This was previously obscured due to the fact that in a December 2016 upgrade to their resources, AKG used a record gold price – $2,000/Oz – to boost their estimated value. This is clearly one of the most serious flaws as the gold price currently hovers around $1,265/Oz.
Muddy Waters believes to have found indications that some of AKG's resource models have been 'smeared', which would mean that estimates of their ore contents are inflated.
Management is outwardly assured and confident, but their behavior reeks of desperation and short-termism.
Finally, Muddy Waters notes that the capital cost to build Esaase is estimated at $100-110m. This money has to be provided from the cash flow, while the company should essentially be lowering its long term debt before seeking refinancing next year.
All very compelling arguments. Let's see how (or rather, whether) Asanko is addressing them and what to do.
My take on all this:
Since last May, the company issued some press releases trying to rebut the shorters' theses and providing a new "expansion DFS" where it refines the numbers of the expansion plan and is generally optimistic about everything.
In the most recent press release (August 3th, 2017) there was a segment that is really important, namely the revision of the 2017 annual guidance to 205-225,000 oz at AISC of $920 to $960/oz due to the following:
The deeper levels of artisanal workings at Akwasiso, resulting in less oxide ore tonnes and more fresh ore tonnes impacting the projected overall oxide tonnes to be processed in H2 2017
Recent testwork results identified blast movements as a source of ore losses and dilution in the Nkran pit
Compare this now to the May 31th, 2017 press release "Asanko Gold to Release Expanded Mine Feasibility Report; Refutes Muddy Waters Short Report", which states that:
(we) Maintain our production guidance of 230,000-240,000 ounces for 2017, which we continue to expect will generate between US$64-US$77 million in cash this year assuming $1,200/oz gold.
Two short months later, projected production is down 10%. By reading the press release we discover that in Q2 2017, compared to Q1, the mined waste is up 10%, the gold feed is down to 1.7g/t from 2.1g/t and that recovery stands at 94% instead of 95%.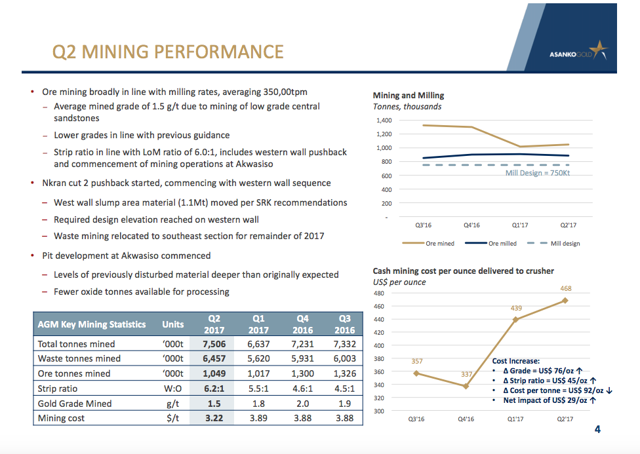 Other important data points include the total gold sales of 48,461oz AU at an average realized price US$1,238/oz for $60m in gold revenue with an AISC that decreased by 3% to $930/oz. The company made $34m in operating cash flow with a net income of $1.2m or $0.00/share and currently has $59.1m in cash and immediately convertible working capital.
After re-reading the thesis of the shorts, I am starting to lean towards their position; management is keeping this company afloat by cutting corners. Give a look at the 2017 Guidance (below). AISC is up, while margin is down even while using a revised higher gold price.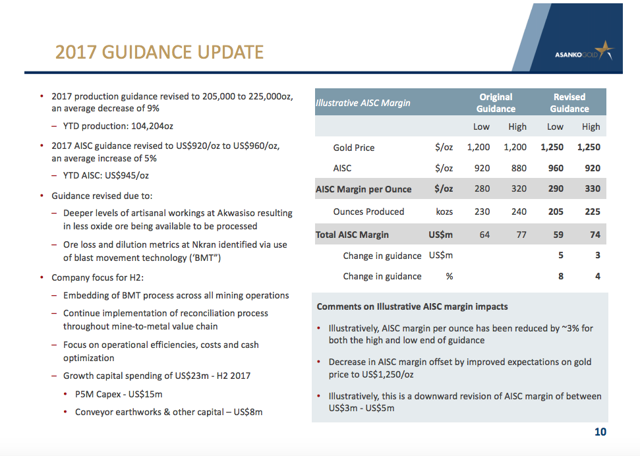 The company is trying to improve the dire state of affairs it finds itself in. At Nkran, the cut 2 phase of the pushback of the side of the pit has recentlystarted and it will be followed by the restart of the western wall sequence including the slump area material (1.1Mt) in line with the SRK recommendations. Per Muddy Waters' calculations the company will need at least $75m to complete this phase.
The financial resources necessary to move all this waste rock will supposedly have to come from current cash flow as will the money necessary to pursue the 5M and 10M expansion programs where the company will incur another $120m more in capital costs.
Hence, the question for all investors about Asanko remains the same as stated back in June:
Can Asanko find $160m to refinance the long term debt due in 2018 + find $120m to build the next pits including Esaase + $90m to strip Nkran (if it is even worth at this point and at this gold price)?
We now know that the company is still afloat in Q2 2017 and made $1.2 million in profits while scrambling some CAPEX towards solving these important questions.
We also know however, and this is new, that one of the margin shallow oxide and easy to mine deposits, the Akwasiso, where mining has commenced recently, is yielding lower oxides than expected because of massive artisanal mining that somewhat depleted them at surface. This is again bad news for Asanko, as it could be that this phenomena is valid for the other shallow deposits in portfolio as well.
In conclusion, I believe it to be a prudent move to sell Asanko at its current price and continue to stay on the sidelines at least until the market cap of Asanko halves and the share price does not go to $0.40. I will continue to follow Asanko so stay tuned and thank you for reading.