Summary
Central banks traditionally purchase gold as an asset that has a low correlation with other financial instruments and does not depend by other foreign powers.
Russia is accelerating the pace of gold purchases, that it executes directly by buying domestic production, since the 2014 US-led sanctions.
We can safely posit that this trend will continue
Gold (GLD) is money. As such central banks (CB) purchase it to back their own currencies as it can be easily sold at any time and place in case they need to defend their currency.
Nowadays central banks generally prefer to own a diversified portfolio of currencies and financial instruments. This can be composed by foreign currencies, foreign government bonds, corporate bonds, mortgage backed bonds, shares in companies national and foreign companies and in the case of the Bank of Japan, even ETF's (the Bank of Japan now holds an astounding 75% of the nation's ETFs.).
Nonetheless gold is at the center of the CBs strategy as it is perfectly liquid at any time and in any market condition, while the price and value of it cannot be influenced by foreign countries. This is important inasmuch as foreign reserves are denominated in foreign currencies and the value of those or the possibility of redeeming these investments are dependent on foreign countries.
Two  countries that have signaled their will to be less dependent on foreign powers are China and Russia. It makes then perfect sense for these two countries to try to allocate a bigger portion of their CBs assets in gold, instead of foreign currency denominated financial instruments.
According to the World Gold Council, CBs demand was up 20% year over year in Q2 2017, totalling 94.5t for the quarter and 176.7t year to date. The increase in global gold reserves was almost entirely driven by sizeable purchases from a small number of central banks. The three biggest purchaser were the CB of Russia that added 100.6t in. Russian gold reserves stood at 1,715.8t at the end of June. In 2015 and 2016 the increase was of around 200t and it looks like the Russian CB wants to buy a similar amount for this yaer.
Notably the other two major buyers were also located in Eurasia: Kazakhstan extended its buying run to 57 consecutive months, with gold reserves growing by 11.3t during Q2, while the CB of Turkey bought 21t during the quarter.
Russia's interest in gold has reached new levels over the past decade. Over the past decade, the Russian CB has added more than 1,250t to its gold reserves, taking its holdings to about 1,700 tonnes (an almost fourfold increase), hoarding the sixth largest gold reserves in the world. In Q2 2017 alone, Russia accounted for 38% of all gold purchased by CBs.
Why has this happened? Here the words of Elvira Nabiullina, Governor of the Bank of Russia and Dmitry Tulin, the First Deputy Governor in a 2015 interview with Reuters:
"We are adhering to the principle of reserve diversification. This principle remains unchanged. From this perspective, our reserves do include gold." Tulin has also stated that the Bank of Russia has been increasing the amount of gold in its reserves, as only this reserve asset provides total protection against legal and political risks.
Matthew Turner, metals analyst at Macquarie Group in London believes that the reason of this keen interest for the yellow metal is that:
"Gold is an asset that is independent of any government and, in effect, given what is usually held in reserves, any Western government," (…) "This might appeal given Russia has faced financial sanctions."
Mr Turner is here referring to the sanctions that the US and its allies slapped against Russia after the annexation of Crimea the 18 march of 2014, as well as the more recent sanction mandated by the US Congress for the alleged interferences into the US elections in 2016.
Russia is not only hoarding gold in order to protect herself from legal and political risks. The national production has almost doubled since 1995 and today, Russia ranks third on the list of global producers, behind China and Australia. Production of more than 300 tonnes is expected this year, rising to 400 tonnes by 2030, according to Sergey Kashuba, Chairman of the Union of Gold Producers of Russia. The Russian CB purchases gold chiefly from domestic miners through commercial banks and not in the open market.
Below a visualisation of what is happening. As you can see the pace of purchases is accelerating since the first round of sanctions in 2014.
Russia Gold Reserves (Trading Economics).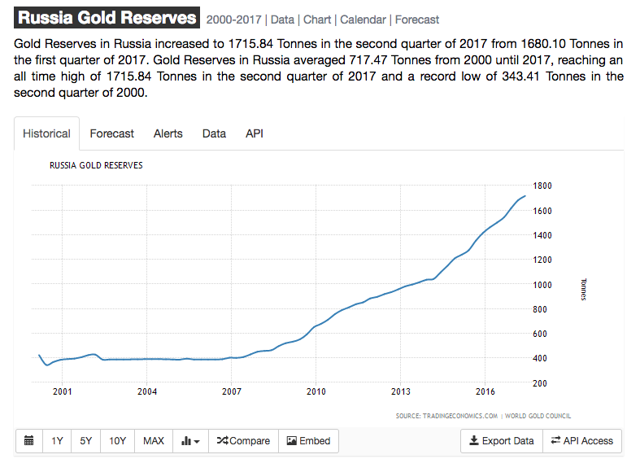 At its current pace, Moscow will unseat China for the number five spot of gold-holding nations by the first quarter of 2018. China has been the world's biggest gold producer for 10 years and the largest consumer of the metal for four years and aims to increase its annual gold output to 500 tonnes by 2020 from around 450 tonnes currently.
All this is good news for the gold price. CBs can print an infinite amount of their currencies and buy gold that is in limited and only slightly increasing amount. The only way forward is hence a higher USD denominated gold price.