In this article I will start coverage of a new small gold explorer in Burkina Faso, Nexus Gold (NXXGF).
This article will not issue a formal trade recommendation. The aim is to provide the reader with an unique inside about this firm and give food for thoughts. The article will be structured in two parts: a short introduction about mining in Burkina Faso, followed by an analysis of Nexus Gold.
All figures in US Dollars if not stated otherwise.
Burkina Faso as a mining jurisdiction

Burkina Faso is fast emerging as the go-to destination for gold mining in Western Africa. One of the main advantages that Burkina has over other jurisdiction in the region is that until now it was less explored than neighbouring Ghana and Mali, while being endowed with the same favourable geological structures, the birimian greenstone belt of West Africa.
Burkina Faso is the fastest growing – and currently fourth-biggest – gold producer in Africa and gold recently became the biggest export product of the country, having overtaken the traditional cotton. Although the country saw some political strife in recent years – former president Blaise Compaore was deposed in 2014 and there were some problems with a temporary military junta in 2015 – Burkina Faso is actually remarkably stable for African standards, and when I was there in November 2017, there were no signs of political tension. Local elections were held in 2017 and the local population, although 60% Muslim, does not seem to be interested in the propagation of radical Islam, rather different religions coexist peacefully in the country.
Most important to us, there is no precedence for domestic political issues ever affecting gold mining or stopping the local government from awarding mining licenses. This is also reflected in the fact that the country 
scored remarkably well
 in the 2015 Fraser Survey of mining companies: it is in the first quartile of this survey, which is composed using answers from industry professionals operating around the world.
The government approved construction of more than 10 gold mines in the last few years. Burkina Faso has a low corporate tax rate of 20% for mining companies, the government is also entitled to a 10% free carried interest in mining operations and a 3-5% sliding royalty on gold production is in place. All in all, taxation and government support appear to be more than acceptable compared to global standards.
As a further proof of the good business climate in Burkina Faso, we can note that the government approved more than 10 gold mines in the last few years, with three major deals in 2013, when three majors – B2Gold (NYSEMKT:BTG), Centamin (OTCPK:CELTF) and Teck (NYSE:TECK) – all bought gold projects Burkina. In 2014, there was an Acacia Mining (OTCPK:ABGLF)/Sarama (OTC:SRMMF) JV, while 2015 saw the acquisition of Orbis Gold by SEMAFO, Endeavour Mining's (OTCQX:EDVMF) acquisition of True Gold and Gryphon's acquisition by Teranga (OTCPK:TGCDF), which was one among many other small deals. Other notable companies operating in Burkina Faso are Roxgold (OTC:ROGFF), which had their first gold pour in May 2016 at the first underground gold operation in Burkina Faso, Orezone (OTCPK:ORZCF), which owns the massive Bombore project (also a project that I visited and will write about soon), IAM Gold (IAG), which mines the Essakane mine (discovered by the Orezone team) and Nordgold, a Russian privately held gold-focused major miner, that operates the Bissa mine, just east from where Nexus is looking to find gold.
Nexus Gold
I was intrigued about Nexus gold properties while researching the Burkinabe gold sector. It is still a relatively unknown actor in this space. Nexus owns three properties in Burkina Faso, all of them easily reachable by paved road 1.5 hours north from Ouagadougou, the capital city of Burkina Faso.
I toured the properties with Warren Robb a seasoned geologist with over 25 years of experience and currently Nexus' chief geologist. In 2012, Mr. Robb served previously as chief geologist for Roxgold (ROGFF), where he supervised both field exploration and the diamond and RAB drilling program on the company's Yaramoko gold property located in the Hounde Belt, western Burkina Faso.
Niangouela is the first property that I visited. Below a view of how the property looks now. The region is flat with some small hills. On the side of this hill you can observe the grey coloured tailings left by the artisanal miners.
Niangouela (Fabio Herrero 2017)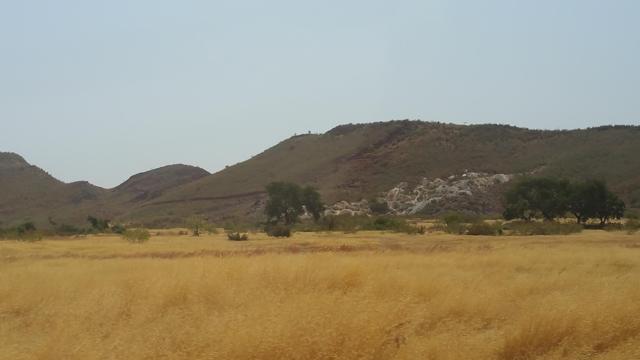 All properties are in the same trend and in the case of Niangouela it is literally just outside the highway going direction Mali, meaning transportation and exploration costs are reduced as access is relatively easy. The major local center nearby is the city of Yako. Other notable miners in the are are the Russian gold miner Nordgold, that owns the Bissa mine and the Karma mine, operated by Endeavour (
EDVMF
). All properties are currently optioned from the Burkinabe mining agency, while the Nianguela property was previously owned by Cluff Gold).
Bouboulou and Niangouela projects in contest (September 2017 Corporate Presentation).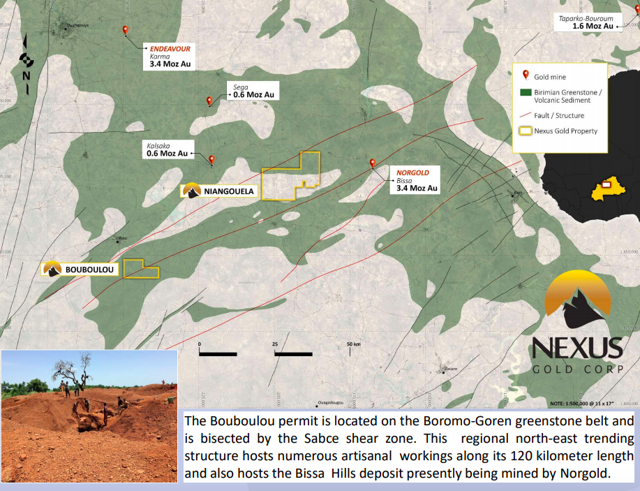 The 178 square km Niangouela gold concession is located on the Boromo greenstone belt, and is very close to the Kalsaka and Sega deposits and mine (previously owned by Cluff Gold and Amara Mining) and the Sabce shear. In this region of Burkina Faso gold is generally associated with quartz veins. The company has delineated a 1 km quartz vein and shear strike with samples taken at depths of around 46-60m. The best sample was the NG005, taken from the primary quartz vein at 46 metres below surface in an artisanal shaft, returned a value at 2,950 g/t gold. Eight of the first nine diamond drill holes on the property returned positive gold intercepts, highlighted by a 4.85m intercept at 26.69 g/t, including one metre at 132 g/t. There is a sizeable artisanal miners village over the property as you can see in the picture below.
The artisanal miners village present on the property (Fabio Herrero 2017).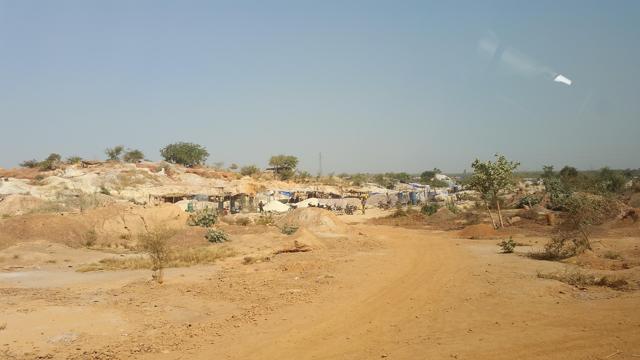 This 38.8 square km Bouboulou gold concession was previously explored by Riverstone Resources and Roxgold. The property sports numerous near-surface gold occurrences in three gold trends, each extending for around 5km. Historical drill results include: 40m of 1.54 g/t, including 20m of 2.25 g/t; 35m of 2.2 g/t, including 12m of 5.45 g/t; 10m of 2.84 g/t, including 2m of 12.45 g/t and 4m of 12.53 g/t.
These tiny little yellow sparks are gold particles collected by an artisanal miner on the Bouboulou property (Fabio Herrero 2017).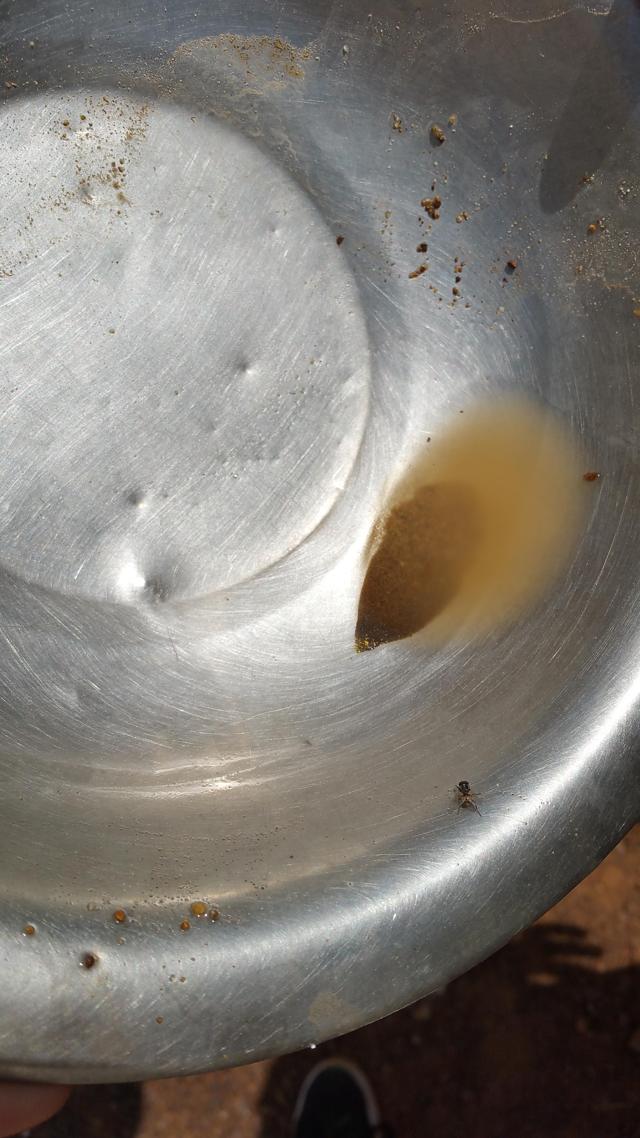 The 250 square km Rakounga gold concession is contiguous to the Company's Bouboulou property, bordering Bouboulou on the west and south sides.
Rakounga also features several artisanal miners sites. Koaltenga is the largest with up to 800 metres of strike length. The porphyry orpaillage measures approximately 150 metres in length, hosted in plutonic rocks.  Gounga is the smallest orpaillage, measuring approximately 75 metre long. The Bouboulou 2 and Pelatanga-Rawema gold trends extend southwest from the Bouboulou property on to Rakounga. There is significant artisanal mining activity along this trend, indicating gold mineralization extends for some distance.
Below you can see a picture of the chips of the RKG 17 RG-001 drill hole, which returned (starting at 102 meters deep) an intercepts of 26 metres grading 0.82 grams per tonne gold, including two metres of 4.11 g/t Au
Warren Robb believes as being this to be the most promising project of Nexus' portfolio. This properties, as the others, need more exploration to determine the extent of these mineralised zones.
The chips of the RKG 17 RG-001 RC drill hole, you can nicely see the different colours of the different geological strata (Fabio Herrero 2017).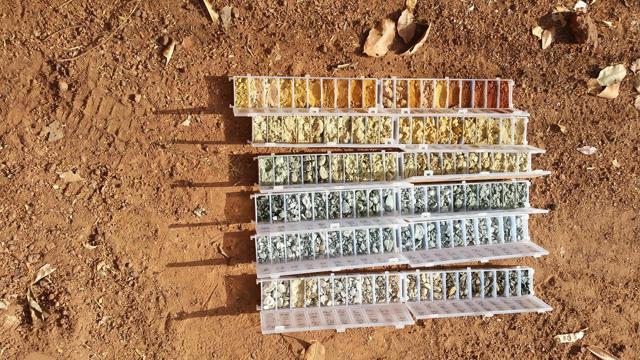 To conclude Nexus is a nimble new player that is drilling on land that obviously contains gold bearing structures and trying to delineate the first gold deposits. As many small explorers, it will need more money to explore further. Management fees and general and administrative costs are reasonable however and kept to the bare minimum, meaning that the majority of the money goes directly into exploration and this is good for investors. I will keep Nexus in my watchlist to see how it evolves and write about it again if warranted.